Welcome to New Life Episcopal Church
We're so glad you've visited us here on the web. And it's probably no accident that God brought you to our site. New Life is an Episcopal Church that welcomes you and all people. Here you will find a safe place to ponder, to question, to learn and grow. To love and be loved, learn and teach, serve and be served, and share and receive. Wherever you are on your journey of faith, you are welcome here!
This lent, we will be having a weekly book discussion consisting of supper, discussion, and compline. This year's book selection is The Last Week: What the Gospels Really Teach About Jesus's Final Days in Jerusalem, by Marcus Borg and John Dominic Crossan. The discussion will be every Tuesday night beginning on March 11th and running through April 15th. Supper begins at 6:30, and we aim to be finished with compline by 8:30.
Please let Rev. Beth know if you need a book ordered.
From the description of the book on Amazon:
"Top Jesus scholars Marcus J. Borg and John Dominic Crossan join together to reveal a radical and little-known Jesus. As both authors reacted to and responded to questions about Mel Gibson's blockbuster The Passion of the Christ, they discovered that many Christians are unclear on the details of events during the week leading up to Jesus's crucifixion.
"Using the gospel of Mark as their guide, Borg and Crossan present a day-by-day account of Jesus's final week of life. They begin their story on Palm Sunday with two triumphal entries into Jerusalem. The first entry, that of Roman governor Pontius Pilate leading Roman soldiers into the city, symbolized military strength. The second heralded a new kind of moral hero who was praised by the people as he rode in on a humble donkey. The Jesus introduced by Borg and Crossan is this new moral hero, a more dangerous Jesus than the one enshrined in the church's traditional teachings.
"The Last Week depicts Jesus giving up his life to protest power without justice and to condemn the rich who lack concern for the poor. In this vein, at the end of the week Jesus marches up Calvary, offering himself as a model for others to do the same when they are confronted by similar issues. Informed, challenged, and inspired, we not only meet the historical Jesus, but meet a new Jesus who engages us and invites us to follow him."
Marcus J. Borg is an American New Testament scholar, theologian and author. He is among the most widely known and influential voices in progressive Christianity and is a major figure in scholarship related to the Historical Jesus.
John Dominic Crossan is an Irish-American New Testament scholar, historian of early Christianity, and former Catholic priest who has produced both scholarly and popular works. His research has focused on the historical Jesus, on the anthropology of the Ancient Mediterranean and New Testament worlds and on the application of postmodern hermeneutical approaches to the Bible.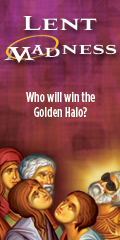 The forecast for Sunday, March 2 is for snow. We want you to be safe, and use your best judgment based on the conditions. However, we will be filling out our Lent Madness brackets and we don't want you to miss out on the festivities. So, below is the bracket/instructions that you may download and print to fill out on your own. Return your completed brackets to Rev. Beth by Wednesday, March 5 (Ash Wednesday). The first bracket kicks off on Thursday!
Rev. Beth's journey to the priesthood was featured in an article appearing in the Canton Repository on January 18, 2014.
---
You could say the Rev. Elizabeth "Beth" Frank gave up the law, to follow the prophets.
On Dec. 6, Frank became the priest-in-charge at New Life Episcopal Church at 13118 Church Ave. NW.
For Frank, the assignment is part of a journey that has stretched as far as Beijing, where the Akron native taught English after graduating from Princeton University; to the federal courts, where she practiced law on behalf of the United States for more than 15 years.