Church News
This lent, we will be having a weekly book discussion consisting of supper, discussion, and compline. This year's book selection is The Last Week: What the Gospels Really Teach About Jesus's Final Days in Jerusalem, by Marcus Borg and John Dominic Crossan. The discussion will be every Tuesday night beginning on March 11th and running through April 15th. Supper begins at 6:30, and we aim to be finished with compline by 8:30.
Please let Rev. Beth know if you need a book ordered.
From the description of the book on Amazon:
"Top Jesus scholars Marcus J. Borg and John Dominic Crossan join together to reveal a radical and little-known Jesus. As both authors reacted to and responded to questions about Mel Gibson's blockbuster The Passion of the Christ, they discovered that many Christians are unclear on the details of events during the week leading up to Jesus's crucifixion.
"Using the gospel of Mark as their guide, Borg and Crossan present a day-by-day account of Jesus's final week of life. They begin their story on Palm Sunday with two triumphal entries into Jerusalem. The first entry, that of Roman governor Pontius Pilate leading Roman soldiers into the city, symbolized military strength. The second heralded a new kind of moral hero who was praised by the people as he rode in on a humble donkey. The Jesus introduced by Borg and Crossan is this new moral hero, a more dangerous Jesus than the one enshrined in the church's traditional teachings.
"The Last Week depicts Jesus giving up his life to protest power without justice and to condemn the rich who lack concern for the poor. In this vein, at the end of the week Jesus marches up Calvary, offering himself as a model for others to do the same when they are confronted by similar issues. Informed, challenged, and inspired, we not only meet the historical Jesus, but meet a new Jesus who engages us and invites us to follow him."
Marcus J. Borg is an American New Testament scholar, theologian and author. He is among the most widely known and influential voices in progressive Christianity and is a major figure in scholarship related to the Historical Jesus.
John Dominic Crossan is an Irish-American New Testament scholar, historian of early Christianity, and former Catholic priest who has produced both scholarly and popular works. His research has focused on the historical Jesus, on the anthropology of the Ancient Mediterranean and New Testament worlds and on the application of postmodern hermeneutical approaches to the Bible.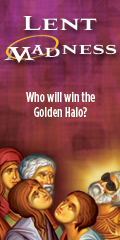 The forecast for Sunday, March 2 is for snow. We want you to be safe, and use your best judgment based on the conditions. However, we will be filling out our Lent Madness brackets and we don't want you to miss out on the festivities. So, below is the bracket/instructions that you may download and print to fill out on your own. Return your completed brackets to Rev. Beth by Wednesday, March 5 (Ash Wednesday). The first bracket kicks off on Thursday!
Rev. Beth's journey to the priesthood was featured in an article appearing in the Canton Repository on January 18, 2014.
---
You could say the Rev. Elizabeth "Beth" Frank gave up the law, to follow the prophets.
On Dec. 6, Frank became the priest-in-charge at New Life Episcopal Church at 13118 Church Ave. NW.
For Frank, the assignment is part of a journey that has stretched as far as Beijing, where the Akron native taught English after graduating from Princeton University; to the federal courts, where she practiced law on behalf of the United States for more than 15 years.
Join us for a light-hearted and spirited afternoon of fun for all ages!!
It's the...
New Life Game Afternoons
January 19th and February 16th at 11:30am (following the Sunday Service)
Invite your Friends of all ages!
Bring your favorite games (no electronic games, please)
Food and Beverages provided
Leave the baking to (all of) us!!
The First Annual Christmas Cookie Exchange will be held on December 22, 2013 after church.

Bake your favorite Christmas cookie, and bring in four dozen of that kind to share. Pastry boxes will be supplied so you may select four dozen from the assortment of cookies brought in by your friends, family, and neighbors. When you leave church on the 22nd, you will have a large, beautiful platter of assorted homemade cookies to share with your family and friends.

We ask that you register ahead of time so we know how many to expect. There will be a $5.00 registration fee which will be donated to the New Life Building Fund. Registration forms are available at the link below:
Deacon Beth is being ordained to the priesthood on December 6th. Coincidentally, that date is also St. Nicholas Day, the day we celebrate Nicholas of Myra, the 4th century bishop and saint.
To celebrate both St. Nicholas and Deacon Beth's ordination, New Life will be having a "Flat St. Nicholas" competition. The rules are simple. Start with the drawing of St. Nicholas that can be picked up at church, or downloaded below.
Color and decorate your Flat St. Nicholas. Be creative!
Cut out your St. Nicholas and glue him to cardboard or a wooden stick.
Take pictures of Flat St. Nicholas in unique locations.
Send your best photos to This e-mail address is being protected from spambots. You need JavaScript enabled to view it. .
Prizes will be given and your photos will appear on New Life's Facebook page and on the website!
God willing and the people of God consenting, the Right Reverend Arthur B. Williams, Jr., Assisting Bishop, Diocese of Ohio, will ordain Elizabeth Frank to the Sacred Order of Priests in Christ's One Holy Catholic and Apostolic Church.
Everyone is invited to join us on Friday, December 6, 2013 at 7:00pm at New Life as Beth Frank is ordained to the priesthood and becomes our Priest-in-Charge! Clergy attendees should wear white stoles. A reception will follow the service.
We've been hearing a lot about the Affordable Care Act, and there are many questions about who it will affect, how it will be implemented, and what it means to health care and insurance as we move forward. Linda Heitger has provided some resources for us to review as we begin to navigate through this new program.
We have partnered with St. Paul's Canton to help them with their Thanksgiving outreach. Each year they prepare and distribute "Thanksgiving baskets" filled with groceries to their neighbors in downtown Canton who may not be able to provide a Thanksgiving dinner for their families.
We have several opportunities to pitch in:
Food Sorting: Nov 11 (Mon) & 14 (Thurs) 7pm, Nov 16 (Sat) 10am
Food Bagging: Nov 18, 19 & 20 (M-W) 7-9pm
Moving Night: Nov 22 (Friday) 7-9pm (baskets need to be moved from the preparation area to the distribution area)
"Youth" of all ages are especially encouraged to help on Friday, Nov 22nd. We will meet at St. Paul's-Canton at 6:15pm for pizza, soda, and reflection, help move the bags to the distribution area, and end the evening with compline. Please sign up so we can make sure we have enough pizza for all. The sign-up sheet is on the Outreach Bulletin Board.
During November, we will be asked to make a decision about our giving. Some of us think in terms of fund raising when we are asked to consider giving to the church. Most of us are bombarded every week with worthy appeals from exemplary causes. The list of needs is long. So it comes naturally to ask, when approached, what does the church need?
Certainly the church needs many things to continue its ministry. But are we really asking the right question? If stewardship means accepting responsibility for that portion of God's creation given to us, then what does that responsibility truly entail? Some have defined stewardship as "Everything I do, with everything I have, after I say, 'I believe.'" Seen in this light, stewardship is at least as much a spiritual issue as a financial one. It has as much to do with faith, as with time, talent, and treasure.
If all we have is evidence of God's blessing – God's gift to us – then the deepest and truest response we can make is to give back some of God's own. As Christian stewards, our response is one of profound gratitude, and flowing from it, generosity. That perspective turns the original question on its head. It is not, "What does the church need to receive?" but rather, "What do we need to give?" Instead of responding to a premise of scarcity, we are moved by the premise of abundance.
Effective stewardship is driven by our own desire to give, motivated by gratitude, and impelled by faith. It is not pulled out of us by needs elsewhere, prodded by guilt. We give because we have decided we want to, because we believe it is the right thing to do, not because others would like us to. When we reach this stage in our faith, then we are ready to be more effective stewards.
Are all of us, individually and collectively, up to that?
Open, O Lord, the eyes of all people to behold thy gracious hand in all thy works, that, rejoicing in thy whole creation, they may honor thee with their substance and be faithful stewards of thy bounty. (BCP, page 329)
Forum and Dialogue on Racial Reconciliation
Moderator: Ray Suarez, journalist & PBS commentator
Keynote Speaker: Presiding Bishop Jefferts Schori
A thought-provoking video exploring the roots of the anti-racism movement in America and features the stories of leaders active in the civil rights movement and their hopes for the future. Dialogue follows.
Four Ways to Participate:
November 15th
2-4:30pm at New Life
View and discuss the 90 minute webcast

November 16th at Christ Church-Kent
November 23rd at St. Phillips-Akron
9:30am to noon
Diocesan viewings & discussion
Click here to register for the Nov 16th and Nov 23 sessions

Access this forum through the Episcopal Church website.
The First Christmas: What the Gospels Really Teach about Jesus' Birth
by Marcus Borg and John Dominic Crosson
The Wednesday 10:30am Group will start reading the book in early November.
A Tuesday Evening group will gather December 3rd, 10th and 17th at 6:30pm for supper followed by book study and compline.
Sign up on the parlor bulletin board to reserve a copy of the book ($7).
Central East Mission Area Council Pre-Convention Meeting
Tuesday, October 29th
7pm at St. Timothy's-Massillon

Mission Area Council members, Diocesan Convention delegates and interested individuals are invited to learn about and discuss the proposed canonical and constitutional amendments, resolutions, nominations, and the Diocesan Budget.
On Sunday, October 27, we will be having a conversation about the proposed Camp and Retreat Center for the Diocese of Ohio. The conversation will take place in the parlor after church.
At Diocesan Convention (November 8-9) there will be a proposal before the delegates to move forward on a capital campaign to raise funds for the building of a Camp and Retreat Center. It is important that New Life's delegates to convention (Larry Mackey, Joe Bridges, Scott Bridges) know what your thoughts are on this project, so they will be able to make an informed vote.
At the Sunday meeting, we will be watching a video about the center (preview it below), as well as discussing our thoughts surrounding this particular diocesan ministry. There is also a handout that goes along with the video.
More information can be found on the Camp and Retreat Center website (dohiocampandretreatfarm.com).
The coffee hour teams have been reworked and people have been reassigned. We will begin rotating through the teams on a regular basis to ensure that we continue the fellowship ministry that is our coffee hour. These are our new teams:
*Team Captains - each team has been assigned a "team captain" who will be responsible for "rallying the troops" as well as coordinating coverage in the event their team is unable to host coffee hour on their assigned week.

Team 1: "Heavenly Treats"
*Vi Croasmun
Kathy & Kara Jernigan
Marianne Grigas
Norma Francis & Any Jenke
Team 2: "Banquet Bliss"
* Joan Warren
The Mackey/Dale Family
Rita Norman
MJ Maling
Lynn Gorman
Team 3: "Good Eats"
*Julie Martin
Barb Mathues
Bill Joseph & Ellen Elder-Joseph
Cherie Parker
Linda Heitger
Alma Hammond
Denny & Carlana Chapman
Team 4: "Big Buns"
*Craig & Susan Lanham
Joe, Charlyn, and Scott Bridges
Pete & Gladys Mihelic
Laura Melert
Team 5: "Sweet Rewards"
*Toni Miller
Mary Jane & Carol Davidson
Jan Szwast
Jerry & Lucy Smith
Julia Milam
Don Laconi
Team 6: "Chow Down"
*Diana Evans
Jim Dean
Judy Johanning
Marilyn McGuckin
Dave & Darlene Giffin
Scott & Christine Walton
For those coming to New Life on State Route 619 in the City of Green - Monday, July 15 – until further notice
Beginning Monday, July 15, SR 619 between Mayfair Rd. and Kreighbaum Rd. will be closed through late August for a bridge replacement.
The detour coming from the North will be SR 241 to US 224 to SR 91/Canton Rd.
The detour coming from the South and West will be SR 241 to Wise Rd (or Raber Rd) to Kreighbaum Rd ( or Cleveland Ave)
The Rev. Josh Butler preached the sermon on Sunday, July 7th. He challenged us to see the demons that are around us, and to cast out the ones we can.
Some of you have been out there amidst the wolves, into the cities and where there are no cities, caring for the poor, the weak, the sick and the lonely. Sometimes, in to the course of this good work, you have cast out demons. Not all of you have cast out demons but more of us should certainly try our hand at it.
Make no mistake about it: They are still here. There are demons afoot.
How do we drive out demons? You may know the answer but, in the off chance that you do not know, and just in case you have never thought about casting out demons, I want you to think about it this morning and hold it in prayer. .......... ..........
Read more...
Concert performers JoNell and Stephen Aron will perform at 4 p.m. Sunday, June 30 at New Life.
The concert by soprano Jo Nell and Aron and classical guitarist Stephen Aron is free and open to all thanks to a grant from the Episcopal Diocese of Ohio. A reception for the performers will follow in the church social hall. The duo have performed at chamber music series and at universities across the U.S. as well as being featured in concert series in both Italy and France. Aron and Aron plan to perform Elizabethan lute songs, German lieder, American folk songs and favorites from the vaudeville tradition from their CD "Shine on Harvest Moon." The Arons have been performing together since 1994.
Stephen Aron is professor of music and chairman of guitar studies at the University of Akron as well as teacher of classical guitar and founder of the classical guitar studies program at the Oberlin Conservatory of Music. In addition to her solo work here and abroad, JoNell Aron has taught music since 1989 in Ohio public and private schools and is currently music instructor at Madison Schools, Mansfield.
The duo's concert performances have been reviewed as "beautiful, thrilling, and spectacular." JoNell's voice has been described as "magical, sunny and soothing" and Stephen has been called "one of America's foremost guitarists." The duo have released two CDs, "Shine On Harvest Moon" and "In My Heart." As a soloist, Stephen has released eight CDs including the remarkable performance of Chopin's complete Mazurkas, arranged by Aron, as well as arrangements of other great composers and his own original works. Stephen Aron's arrangements and compositions can be found in print in published by Tuscany/Theodore Presser, Mel Bay and Clear Note Publications.
The vestry is pleased to announce that the Rev. Elizabeth "Beth" Frank will be joining our New Life family. Rev. Beth will be serving as a transitional deacon, based at New Life, until Rev. Pat retires in early August. At that time, Beth will assume the title of "Deacon-in-Charge" until she is ordained to the priesthood. Once priested, Beth will then serve our parish as "Priest-in-Charge".
A priest-in-charge serves a parish for a specified period of time, after which the vestry, bishop, and priest-in-charge decide whether the relationship should continue, and the priest-in-charge would be called as priest.
Beth was ordained to the transitional diaconate on June 1st of this year, after graduating from Bexley Hall Seminary in Columbus. An Ohioan, with family in Akron, she has lived and worked in China (and knows Chinese), has been a lawyer, and served as the director for a five-county Special Olympics program. She has also done mission in Liberia, Columbus, and now in Belize.
Diocesan Canon for Ministry, Percy Grant, suggested that New Life would be a great place for Beth to begin her ordained ministry. New Life's reputation for honesty, care, and welcome, will help to make Beth's tranistion a smooth one, while Beth's gifts will help New Life continue on its path of ministry, mission, and caring.
Beth has already started working with the Wednesday morning study group, and will begin serving with us on Sundays, starting on June 30.
Welcome, Rev. Beth!!
Join us June 16-21, 2013 as the Central East Mission Area Youth participate in mission right in our own backyard!! "Appalachia in Ohio" finds us in Carrollton - a very small and beautiful community which continues to grow despite facing some severe social and economic challenges. These 7th-12th graders will be working side by side with people from the community on projects such as their new park system, food pantries, nursing and group homes, and even projects for individuals. There will be worship each day, as well as activities together such as a walking tour of the community, and games at a local park.
Come with your youth group, or come on your own. Who knows, serving God this way may just change your life!
More details about Appalachia in Ohio
<<

Start

<

Prev

1

2 Next > End >>


Page 1 of 2